KingFish is extremely proud to be locally owned and operated for 70 years! Come join us in celebrating at one of our two Riverfront Stores!
Since 1948, great seafood and KingFish Restaurants have become synonymous in Kentucky and Southern Indiana.  We've built a proud reputation for excellence in our dining rooms and carry out depots by offering abundant variety, friendly service, and especially reasonable prices. A reputation the KingFish family works hard to maintain with each and every time we serve, 7 days a week, to hungry folks like you who appreciate the finest seafood anywhere.
Our Story
The First KingFish Restaurant was opened, with a refrigerator of fish, two fryers, and a cooler of beer, in a building that Mr. Russell Austin and Mr. Henry Burns built with their own two hands, on Derby Day, 1948. That famous first location was at the foot of Fourth Street and River Road in downtown Louisville.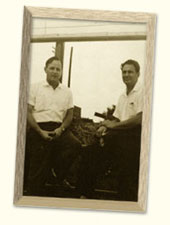 The Duo opened four more KingFish restaurants across the city from 1955 to 1981.  They were highly recognizable with their Paddlewheel Boat design.
In 1989, Mr. Austin and Mr. Burns sold the Company to two Louisville based land developers, Charles A. Brown, Jr. and Norman V. Noltemeyer. The partners added a location on the riverfront in Jeffersonville, Indiana in March of 1998 and owned the company together until 2016 when Mr. Brown and Brown Capital took over operations.
In recent years, KingFish has streamlined its operations to focus on making the two remaining locations, Ohio River destination spots. The restaurants boast live entertainment, banquet facilities, special events and outside dining at both the Louisville and Jeffersonville, Indiana locations.  KingFish is proud to continue as a locally owned and hometown favorite seafood restaurant.